I received a copy of the movie for review. Affiliate links included, I earn a percentage of the sale through purchase.
Lady and the Tramp Walt Disney Signature Collection DVD Blu Ray
One of the most beloved Walt Disney movies Lady and the Tramp is being released as a Walt Disney Signature Collection. Available on Digital and on Movies Anywhere Feb. 20 and on Blu-ray on Feb. 27!
This has been always been a classic and favorite of mine because this love story brings together great characters along with the unforgettable spaghetti scene. On this release, you get three versions of the movie: classic bonus material, film, and three new features.
New Signature Bonus
Walt & His Dogs

 – Through archival recordings and photos, hear the tales of the dogs Walt Disney owned and loved over his lifetime.

Stories from Walt's Office

 – Take a tour of Walt's office suite on the Studio lot, carefully re-created to look just as it did when he occupied it.

How to Make a Meatball and Other Fun Facts About "Lady and The Tramp"

 – Watch a delicious lesson on how to make perfect meatballs with teen chef Amber Kelley and Oh My Disney Show Host Alexys Gabrielle.
We always bring along out Disney movies via the digital library, and I'm sure the kids will be watching the sing-a-long version on a road trip this summer.
Hearing Walt talk about his love for his dog is so touching, the story above is how he brought their first dog home to surprise his wife. It reminds me how much joy a dog can bring when they come into a family!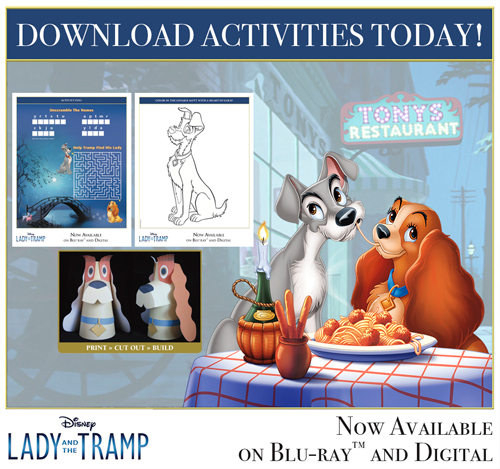 Make sure you get your hands on this Walt Disney Signature Collection edition of Lady and the Tramp! With loads of extras and hours of added bonus features, it will be a great fit in your Disney collection.
Please follow and like us:
More content you may enjoy