This is a sponsored post written by me on behalf of BUBBA Burger for IZEA. All opinions are 100% mine.
One of my favorite burgers to cook BUBBA Burger, now has BUBBA Veggie Burgers! Perfect solution for vegetarians or someone like myself just looking to eat healthier.
Can a BUBBA Veggie Burger really make me full?
Yes it absolutely can! These veggies burgers are made from 100% vegetables no fillers, and a delicious black bean flavor. Black beans are an essential to making a great veggie burger. These are perfect to bring along to your cookout as an alternative to meat.
There are no GMO's, they're all natural and gluten free/vegan friendly. I'm trying to get my kids to eat healthier and include more veggies in their meals. This is the perfect way to cover up veggies and give them a great source of vitamin A & C, a low fat product that is cholesterol free.
Favorite recipes for veggie burgers
Just a few weekends ago Keith made this delicious topping for our burgers and sausage. He made bacon,mushrooms,garlic, onions, and peppers. I choose to go bacon free for my topping but it was delicious!
When you're at the store next time grab a box of these multi-grain, no saturated fat burgers that come in convenient four 3 oz. burgers per box. You don't even need to thaw them just give them a nice low cook on the grill to get them going and then cook as desired.
Want to know more about these delicious burgers? Like BUBBA Veggie Burger on Facebook! And you can Follow BUBBA Veggie Burger on Instagram @bubbaburger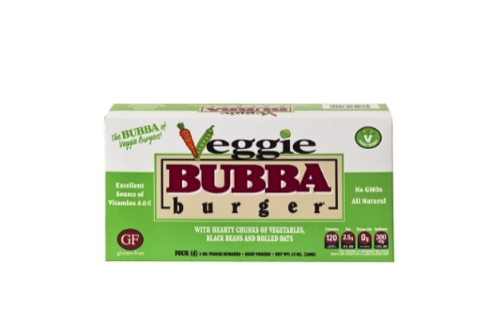 Do you have a favorite veggie burger recipe? How about a favorite topping for your burger?
More content you may enjoy